Our Philosophy
It's simple… We treat our customers just like family. If you want to look around without being hassled, want to buy a vehicle without sales pressure, want honest answers to your questions or want a good deal without the back and forth, we're your kind of people. Further, we're the type of dealership to provide you with a free CarFax and fully support you taking our vehicle to your mechanic for an inspection. We can help you to see what other dealers are selling similar vehicles for you to decide if you're making the right choice. If you want to be in an out with your new vehicle in less than an hour we can assist with that too. Oh, want to see Kelley Blue Book or the NADA guide values? Sure! Do you just want to be treated the way you should be and have confidence in your purchase? You'll want to at least stop by The Price Is Right Auto Sales… Our promise is to deliver just what you want.

Our Pricing
Our prices are always low without sacrificing quality because we are a small, family-owned operation with less overhead than the big guys up the road. We are not here to "Make a killing" on the vehicles we sell. Our prices are not determined by deciding on the profit we'd like to make and marking up the car. Instead, it's determined by a number of true and fair factors: The market, availability, miles, trim and condition.
 
Our Financing
Perfect, Bad or No Credit… We can finance you and get you on the road TODAY! From Credit Unions to In-House Financing… Guaranteed credit approval for all credit types.
 
Company Info
After 25 years working in the Seattle area buying and providing quality used cars to many dealers, in 2006, Steve Blackburn Sr. and his wife Debbie Blackburn opened The Price Is Right Auto Sales. Steve and Debbie were joined in 2012 by Kisha Floren, who began as a part-time receptionist, and worked her way up to Finance Manager in just a few short years.  Steve, Debbie, and Kisha were a very happy, successful team that enjoyed many great years selling cars to Snohomish County residents.  The Blackburns made the decision to retire in 2017, and it was a no-brainer for Kisha to purchase the business she loved so much.
Kisha Floren is now our fearless leader, acting as owner/operator, finance manager, and customer service specialist.  She is at the lot 6 days a week to ensure all of her customers get the best cars, financing, and service.  She is joined by her husband John as her business partner and confidante, Thomas Fowler as Inventory Manager/Salesman and Cameron Corbin as the Marketing Guru.  
We are a small, but very dedicated team that is very proud of our cars and the way we do business. We like to brag about our returning customers and referrals that consistently make up 40% of our sales because it's not a gimmick, it's the ultimate compliment!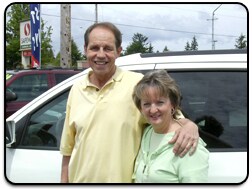 Steve & Debbie Blackburn, Sr.